Unity and INTA Declaration of Principles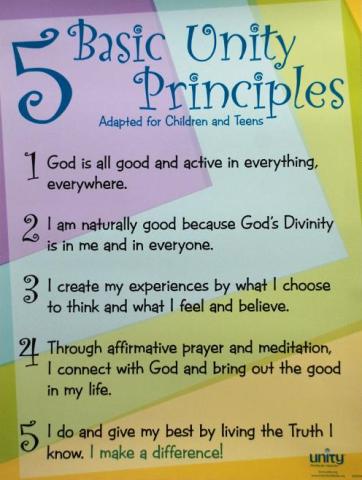 To begin fleshing-out our defining terms of New Thought, the following are the principles of the Unity Movement and the International New Thought Alliance, which, as will be explained in a later chapter, is the oldest and most representative association of New Thought churches. The section headings of "Oneness, Flow and Manifestation" are my own and are placed in the principles to show how New Thought Principles correspond to the working framework we've established.
Five Basic Principles of Unity
Oneness:
God is absolute good, everywhere present.
Human beings have a spark of divinity within them, the Christ spirit within. Their very essence is of God, and therefore they are also inherently good.
Flow:
Human beings create their experiences by the activity of their thinking. Everything in the manifest realm has its beginning in thought.
Prayer is creative thinking that heightens the connection with God-Mind and therefore brings forth wisdom, healing, prosperity, and everything good.
Manifestation:
Knowing and understanding the laws of life, also called Truth, are not enough. A person must also live the truth that he or she knows
New Thought Alliance Declaration of Principles
Oneness:
We affirm God as Mind, Infinite Being, Spirit, Ultimate Reality.
We affirm that God, the Good, is supreme, universal, and everlasting.
We affirm the unity of God and humanity, in that the divine nature dwells within and expresses through each of us, by means of our acceptance of it, as health, supply, wisdom, love, life, truth, power, beauty, and peace.
Flow:
We affirm the power of prayer and the capacity of each person to have mystical experience with God, and to enjoy the grace of God.
We affirm the freedom of all persons as to beliefs, and we honor the diversity of humanity by being open and affirming of all persons, affirming the dignity of human beings as founded on the presence of God within them, and, therefore, the principle of democracy.
We affirm that we are all spiritual beings, dwelling in a spiritual universe that is governed by spiritual law, and that in alignment with spiritual law, we can heal, prosper, and harmonize.
Manifestation:
We affirm that our mental states are carried forward into manifestation and become our experience in daily living.
We affirm the manifestation of the kingdom of heaven here and now.
We affirm expression of the highest spiritual principle in loving one another unconditionally, promoting the highest good for all, teaching and healing one another, ministering to one another, and living together in peace, in accordance with the teachings of Jesus and other enlightened teachers.
We affirm our evolving awareness of the nature of reality and our willingness to refine our beliefs accordingly.