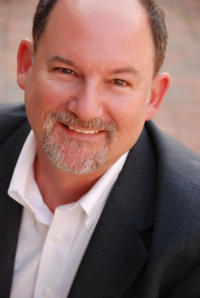 Dear friends at Unity Church of Georgetown,
July 31, 2011 will be my final Sunday serving you as Spiritual Leader of Unity Georgetown. I am leaving to pursue business opportunities and to serve Unity in other ways. After Sunday, you may email me at mark@truthunity.net or visit Marika and me at our home church, Unity Church of the Hills.
Our accomplishments over seven months have been remarkable:
Our first service on January 23 was held only six weeks after our initial Visioning Meeting of December 12
Between those dates, we celebrated Christmas, learned to sing at our Teaming Meeting and held a class in How To Talk About Unity With Your Friends
Our three "trial run" services led to the beginning of weekly services on March 6, less than ninety days from the start.
Our Sunday services have been well attended, ranging from 65-80 people each Sunday, even during the hot summer months.
Our Music Team of Karen Davis and Susan Arbuckle have provided us with beautiful and inspiring music.
Our Sunday Services Team greets, feeds, hugs, sets-up and makes the entire place a lovely, welcoming environment.
Our Prayer Chaplains have completed two months of Wellness Calls and our Prayer Team has kept our Prayer Box since the launch of the church.
Our interim Board of Trustees has met dozens of times to guide and support our growth as a church, to setup our bank account, obtain our non-profit status and to develop the church bylaws.
We have held five classes at the Library introducing Unity to people of Georgetown, we have brought Mindy Audlin to Georgetown to teach us What If Upping, we have learned How To Speak Peacefully from Linda Holmes, we've learned Spiritual DecisionMaking from Bob Slobod, we have had some form of Wednesday night classes or Metaphyiscal Meditation since March and our Prayer Coaches have just completed a four part series on Prayer.
Our Unity Georgetown website is highly ranked by Google, as is also our Meetup page.
Our Weekly Electronic Newsletter has over 200 subscribers and has an open-rate of nearly 50%, which is double of the industry average of 25%.
Behind the scenes, we have an efficient "virtual office" that includes an online Church Management System, an online Worship Planning Center, a virtual, online Telephone System and an online Bookkeeping System.
We raised approximately $10,000 by the time we launched weekly services and we have maintained a healthy $12,000 to $13,000 bank balance since that time, even during the hot, sparse Summer months. This gives us approximately 10-12 weeks of operating funds.
Our expenses per Sunday attendee are nearly half what they are in a typical congregation.
We have been a full 10% tithing church from the beginning, giving to Unity Church of the Hills, The Lovelight Foundation and The Caring Place.
The success of Unity Georgetown is underscored by the recent Church Life Survey which shows that we are "clearly above normal" in nine of 13 ministry essentials and that we have "a strong impact on five out of six outcomes that measure emotional well-being and spiritual development."
Of these five outcomes, I take the greatest joy in knowing that we are 11 points over other congregations in "I am becoming a happier more joyful person" and that we are 16% above normal in "I feel enthusiastic when I talk to people about this church."
Marika and I have loved this church and congregation with all our heart for seven months and it may seem strange that now is the time for me to step aside. I am confident that this is the time for those who are ready to take charge to step up into leadership.
My work here in launching Unity Georgetown is finished and I thank all of you who have worked to bring about these accomplishments. Marika and I will miss you dearly.