Catherine Ponder was ordained a minister in 1958 (First row, second from the right). Catherine Ponder has written a wonderful memoir, A Prosperity Love Story, Rags to Enrichment: A Memoir, published by DeVorss Publications. I enjoyed her book tremendously.
She recently sent to me a brief resume that highlights the following:
Attended Unity School of Christianity from 1950-1958
Licensed as a Unity Minister: 1957; Ordained: 1958 by Unity School
Minister in Training: Unity Church of Birmingham, Alabama 1956-1957
Minister at Unity Church of Birmingham, Alabama 1957-1961
Founded Unity Church of Austin, Texas, 1961 with help of her husband, Kelly Ponder, who taught at the University of Texas, Dept of English and edited her first book, The Dynamic Laws of Prosperity.
Founded Unity Church of San Antonio, 1969-1973
Founded Unity Church Worldwide, Palm Desert, California, 1973-present
Awarded Doctor of Divinity by Association of Unity Churches, 1976 at the Unity Convention in Philadelphia, Pennsylvania
Dr. Ponder has lectured on prosperity in Unity, Religious Science and other New Thought churches from late 1950's until 1996. She has also spoken to many convention groups in the United States, Canada and England.
She has written articles for Unity publications from 1955-1990s and many articles for New Thought Magazine and other publications.
From 1961 until the present, she has written books for Unity School, and various New York publishers.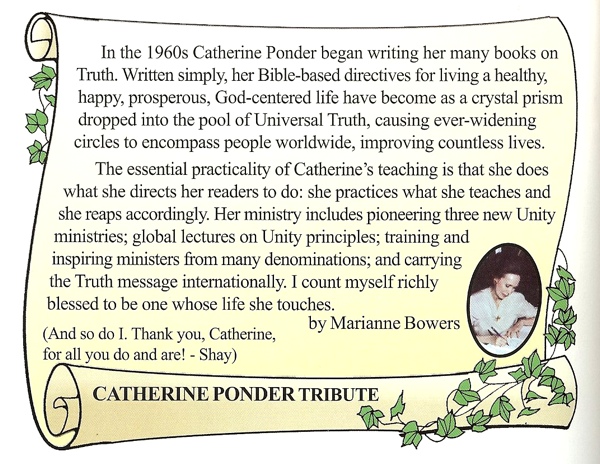 CATHERINE PONDER TRIBUTE
In the 1960s Catherine Ponder began writing her many books on Truth. Written simply, her Bible-based directives for living a healthy, happy, prosperous, God-centered life have become as a crystal prism dropped into the pool of Universal Truth, causing ever-widening circles to encompass people worldwide, improving countless lives. The essential practicality of Catherine's teaching is that she does what she directs her readers to do: she practices what she teaches and she reaps accordingly. Her ministry includes pioneering three new Unity ministries; global lectures on Unity principles; training and inspiring ministers from many denominations; and carrying the Truth message internationally. I count myself richly blessed to be one whose life she touches.
by Marianne Bowers (And so do I. Thank you, Catherine, for all you do and are! - Shay)