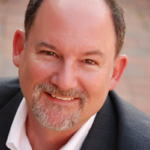 Hi Friends —
We are now three or four generations into the Unity movement. I have found that our spiritual parents — so many who are listed here on TruthUnity and so many who remain to be rediscovered — continue to bless us in unknown ways.
Click here or on the photo to see the Unity graduating class for 1958. What a year for the future of Unity! There they are: Johnnie Colemon, Ed Rabel and Catherine Thrower.
Catherine who? Catherine Thrower Ponder. Front row, 2nd from the right. Below is a card I received some time ago from Dr. Catherine Ponder. I'm from Austin and I have spent quite a bit of time at the University of Texas campus where Kelly Ponder once taught English. You can read about her life in A Prosperity Love Story, which I found to be a wonderful read. I wrote Dr. Ponder to share with her some reflections on the lasting impact of her work here in Austin. She wrote back with this wonderful note. Click on the image for an expanded view.
Do you see the blessing she added at the end of her note?
THE MARK OF SUCCESS IS UPON YOU NOW & ALWAYS
Richest blessings
Catherine ponder
Unity is a special branch of the Christian faith. It's message is quite simple. It is not about sin, but rather about oneness. It is not about worshipping Jesus, but rather about following him. It is not about confession, but rather about transformation. Unity is the only branch of Christianity I know where people spend all their time, energy and money freely passing around blessings to one another.


February 11, 2018