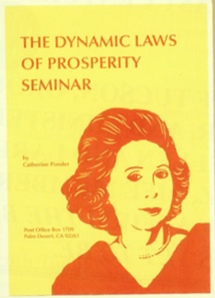 The Dynamic Laws Of Prosperity Seminar
How to Open Your Mind to Prosperity
How to Cleanse Your Mind for Prosperity
How to Create Your Prosperity Mentally First—in Writing
How to Create Your Prosperity Mentally First—through the Spoken Word
How to Create Your Prosperity Mentally First—through Picturing
The Secret of Permanent Prosperity Included in this album: a bonus assortment of inspiring brochures, reminders, and enhancing teachings, hints, and tips.
An Audio Seminar featuring Catherine Ponder Recorded Live!
Here in over 4 exciting, nonstop hours, a complete seminar on the sure way to jump-start your financial life!
Presented by Catherine Ponder, the outstanding prosperity teacher of our time, this audio series can boost you into levels of financial well-being you've simply been unable to imagine before!
Enthusiastic Reports From Listeners:
"We sold property we had been trying to sell for 5 years. I received the exact amount of money I needed, a gift from a relative, as a result of listening to Dr. Ponder's Course."
"After I gave the Ponder [album] to a stranger, he found $800—while cleaning!"
"My roommate made a Visualization Board after hearing this Course. It completely revitalized her love life."
"I had a peaceful, harmonious reunion with my father after a a 17-year rift. This was a miracle, thanks to [this album]"
ENTHUSIASTIC REPORTS FROM LISTENERS:
Entire course: $49.95. Includes postage and handling.

Please specify the format you prefer (CD or cassette). Order directly from:

PONDER AUDIO PROSPERITY SEMINAR - P.O. Box 1709, Palm Desert, CA 92261

Individual cassettes/CDs not available. Please allow 4-6 weeks for delivery
© Catherine Ponder. All rights reserved.
No usage or posting of any kind is permitted without prior written permission from Catherine Ponder.
Used with permission.