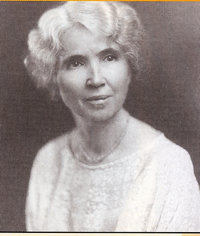 Download a PDF of the Unity Archives Ready Reference file for Imelda Shanklin
In January, 1907 Unity School of Christianity had a working staff of four people, Imelda Octavia Shanklin was one of them. Myrtle Fillmore was editor of WEE WISDOM Magazine and Miss Shanklin wrote many articles for WEE WISDOM.
On September 8, 1918 she was ordained a Unity minister by Charles Fillmore.
In August, 1919 she became Editor of WEE WISDOM and continued as editor in chief of all Unity publications as well as editor of WEE WISDOM until February, 1930 when she resigned her position in order to devote her entire time to writing along metaphysical lines. During her editorship, WEE WISDOM expanded its circulation until it was being read in all foreign countries where English is spoken.
In 1930 she devoted her time for several years in the preparation of a metaphysical study called The Cosmic Adventure. This is an analytical study of the Bible, of which a qualified commentator has said the "conception of the Dweller, the soul, and the Adventure is both clear and illuminating, added something important to the understanding of the symbology of the Bible."
She wrote many, many articles for all Unity perodicals such as WEEKLY UNITY, UNITY, NEW., PROGRESS, YOUTH, and GOOD BUSINESS.
She also wrote several books, the most widely read are Selected Studies and What Are You? Much of her writings are reprinted in today's periodicals. Her published writings include the following:
Selected Studies, Unity work of 1921, later translated as All Things Made New in Key to Life Bookshelf, 1926.
The Lord's Prayer, a Unity pamphlet, 1922.
The Sayings of Jesus Christ. Unity pamphlet, 1923.
Lesson for Young Students, Unity, 1924.
Good Words, a Unity inspirational series.
Treasure Box. Unity, 1927.
What Are You?, Unity, 1929; translated to German, 1933.
Our Enchanted Island, (not a Unity publication), a study for juvenile metaphysicians.
Imelda Shankin was born in 1865 to Francis Marion Shanklin, b. Nov 1833 in Indiana, and Mary Ann Gillilan, b. Oct 1837 in West Virginia. Her last oral teachings were given in connection with Unity work in Cedar Rapids, Iowa. She passed on in May of 1953 in Viola, Iowa.