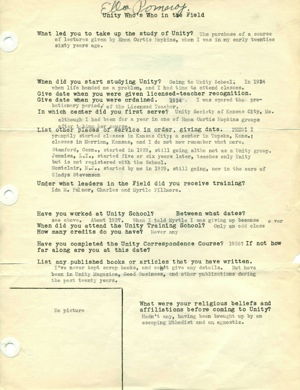 Download the 1948-1949 Unity Field Department Survey for Ella Pomeroy
What led you to take up the study of Unity?
The purchase of a course of lectures given by Emma Curtis Hopkins, when I was in my early twenties sixty years ago.
When did you start studying Unity?
Going to Unity School'. In 1924 when life handed me a problem, and I had time to attend classes.
Give date when you were given licensed teacher recognition.
Give date when you were ordained.
1934. I was spared the probationary period of the Licensed Teacher,
In which center did you first serve?
Unity Society of Kansas City, Mo. although I had been for a year in one of Emma Curtis Hopkins groups after taking her course.
List other places of service in order, giving date.
PHEW! I promptly started classes in Kansas City; a center in Topeka, Kans.; classes in Merriam, Kansas, and I do not now remember what more. Stamford, Conn., started in 1929, still going altho not as a Unity group. Jamaica, L.I., started five or six years later, teaches only Unity but is not registered with the School. Montclair, N.J., started by me in 1929, still going, now in the care of Gladys Stevenson
Under what leaders in the Field did you receive training?
Ida M. Palmer, Charles and Myrtle Fillmore.
Have you worked at Unity School?
Between what dates?
See above. About 1927. When I told Myrtle I was giving up because I was starting a Center in Topeka, she exclaimed "I wish some of the others would do the same thing."
When did you attend the Unity Training School?
Only an odd class
How many credits do you have?
Never any
Have you completed the Unity Correspondence Course?
1926?
List any published books or articles that you have written.
I've never kept scrap books, and can't give any details. But have been in Unity Magazine, Good Business, and other publications during the past twenty years.
What were your religious beliefs and affiliations before coming to Unity?
Hadn't any, having been brought up by an escaping Methodist and an agnostic.
On this sheet give an account of any outstanding healings, either of yourself or of those to whom you ministered. Give any dramatic events, history of your background etc.
This I do not like, and have written you about my reasons. However, since I've taught myself and our people to accept the goodness of God with gratitude, but without ostentation, I can only say that a few startling events rise to mind.

There was the trained nurse who was horror stricken because she had put some sort of corrosive into the eyes of her patient — and nothing disagreeable happened.

There was the woman whose physician had assured her that his own brother bad recently died of a streptococcic condition like her own and who came in weak and despairing. She reported next day that she had been back to the doctor, as he had demanded, and that he had given one glance, and exclaimed "What has happened here?"

There was the girl who came in with a badly blotched face, saying she had tried all the physicians and specialists, and had concluded that she could only be healed spiritually, and left with a smile after we had prayed. She turned up in a few months (after just one interview) with a lovely complexion, and I did not recognize her. She is now a regular student.

But the best of all is the knowledge that we have very little illness of any kind in the group, those who being cases to us being usually strangers.

And this one story of Miss Van Allen's steady progress in freeing her self from winter colds in the last fourteen years. She now appears to be almost immune, the latest story being that last week she "felt a cold coming on", and it had vanished by the next day.

We teach continuous progress, rather than astonishing "demonstrations," for it seems to us that "to live the life" is more, much more, than to turn one particular trick.
Date: Dec 2, 1948
Signature: Ella Pomeroy