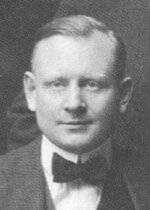 Lowell Fillmore (1882-1975) was the oldest son of Charles and Myrtle Fillmore, co-founders of Unity. His work in the movement began at age 8 when he worked in the family printing business after school and continued for 75 years. He ran the early printing press, served as manager of the ordering department, was editor of Weekly Unity, and wrote a Things Remembered be Remembered column. He was general manager of Unity School for five decades and became president of Unity in 1948 (when his father died), serving in that capacity until 1972. Then he served on the Board of Directors until his death at age 94.
Here is an example of why it is so fun to visit the Unity Archives ... to the right is a letter from J. Edgar Hoover to Lowell Fillmore, where the FBI Director thanks Lowell for sending him a copy of The Household of Faith. Click on the image to open/download a PDF of the letter.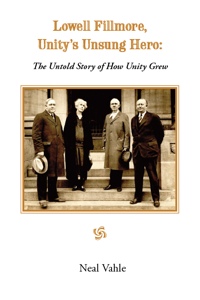 Lowell Fillmore, Unity's Unsung Hero
The Untold Story of How Unity Grew
Neal Vahle. Open View Press, 2014.
Click here to order.
This book reveals for the first time the key role played by Lowell Fillmore in the development of the Unity Movement. It was Lowell whose wisdom, executive capability and creativity, almost single-handedly enabled Unity to achieve amazing growth. This is a must read for anyone interested in how Unity came to play an important role in the development of world religion.
Rev. Phillip Pierson, former vice president, Unity School of Christianity and co-host of the popular "The Best Is Yet to Be" television ministry.
Metaphysical Gadgets by Lowell Fillmore
I go to meet my good. (To be used when answering the doorbell, or on the way to an appointment)
My heart is right with God. (For heart trouble)
Divine love through me blesses and multiplies this money. (For blessing all money when received or paid out)
I am a radiant center of divine love. (To be used in winning friends)
There is nothing lost in Spirit. (To be used when something seems to be mislaid)
I greet the presence and power of God here. (To be used in entering a new home or, in fact, any building)
No man cometh unto me save the Father send him. (For preventing gossip and waste of time with those who would talk too long, and to discover means of helping others Spiritually)
There is but one presence and one power here. (To be used when you seem to be up against a stone wall and the problem facing you seems beyond human solution)
Life. (To bespoken silently in times of health emergency)
Peace. (To be used when there is a disturbing noise or storm, or when you are afraid)
The Spirit of the Lord goes before me making safe, happy, and successful my way. (To be used when starting on a trip)
I am Spirit, Spirit cannot be sick. (To be used when somebody remarks that you are not looking well)
The Christ in me greets the Christ in you. (To be used as a silent salutation)