The Prayer of Faith
Click on the image for a larger size picture of this entry in Unity Song Selections.
God is my help in every need;
God does my every hunger feed;
God walks beside me, guides my way
Through every moment of this day.
I now am wise, I now am true,
Patient and kind, and loving, too;
All things I am, can do, and be,
Through Christ the Truth, that is in me.
God is my health, I can't be sick;
God is my strength, unfailing, quick;
God is my all, I know no fear,
Since God and Love and Truth are here.
Hannah More Kohaus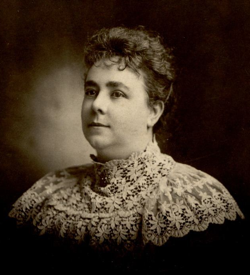 Click on the image to open a high resolution image of Hannah More Kohaus.
Next to The Prayer of Protection, The Prayer of Faith is the most often used prayer in Unity. It was a favorite of Myrtle Fillmore and the first time this prayer appeared in a Unity publication was in the August, 1898 issue of WEE WISDOM, on page 11. The Prayer appears again in the January, 1914 issue of WEE WISDOM on page 21, in an article titled The Truth Child's Rosary, with a byline Aunt Myrtle and credit for the prayer is given to Hannah More Kohaus.
Click here to download a PDF of research about Hannah More Kohaus, courtesy of Unity Library and Archives.
Modern expressions of The Prayer of Faith