Library item is digitized:
Library item is published on TruthUnity:
You may Pay What You Wish for this item:
Market Price/Suggested Offering: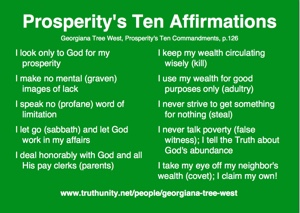 These are 3x5 cards upon which are printed Prosperity's Ten Affirmations, as they are printed on page 126 of Prosperity's Ten Commandments, a book by Georgiana Tree West.
I print 1,000 of them at a time. Let me know if you would like just one for yourself, a handful for your friends or church board, or if you would like enough to hand out during a Sunday lesson.
Click on the image to see a higher resolution image of the card.