Summary
The Gratitude Center is a concept for the strategic partnership of a metaphysical church and a group of independent providers of music, dance, healing and yoga, who serve an identifiable market segment with a shared set of values and vision and a shared facility. Unlike a typical church, The Gratitude Center is not a religious institution, rather it is secular and spiritual, allowing the independent providers to operate free from being associated with a church and allowing the partnering church to entirely focus on providing spiritual services.
Vison
Positive minded people making the world a better place through abundant and meaningful living.
Flyer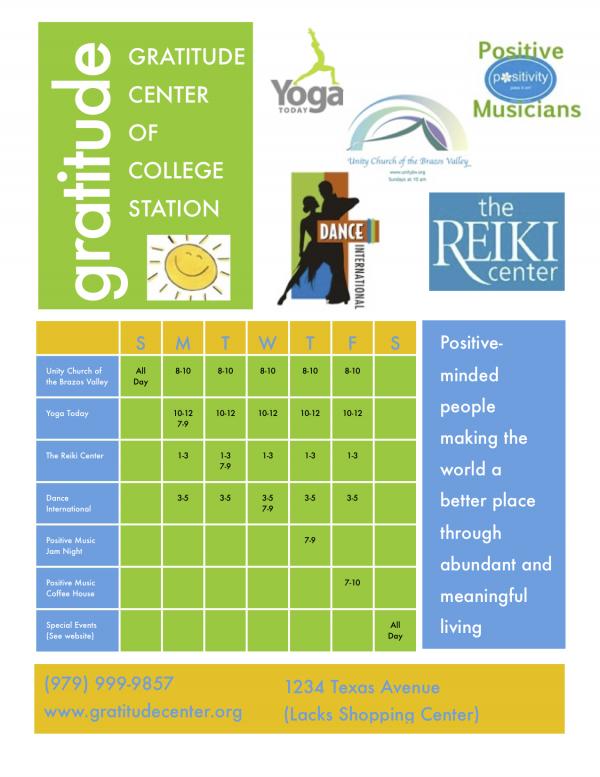 Size Requirements
Estimating the size necessary for a church:
http://www.churchbizonline.com/church_building_guidelines.htm
For 50 people:
600-900 sq ft. Sanctuary seating ranges from 10 -15 square feet per person, depending on layout, seating pattern, and total size of the sanctuary.
20 parking spaces. Plan on an average of 1 parking space for every 2.5 people on campus at one time. This will probably be less than the the city or county require in parking for your church building project, but it will more accurately reflects actual need.
300 sq ft. classrooms. Classrooms range from 12 to 35 square feet per person in the room, depending on the age group using the space.
Real Estate Finder
http://www.loopnet.com/